Heart Valve Abnormalities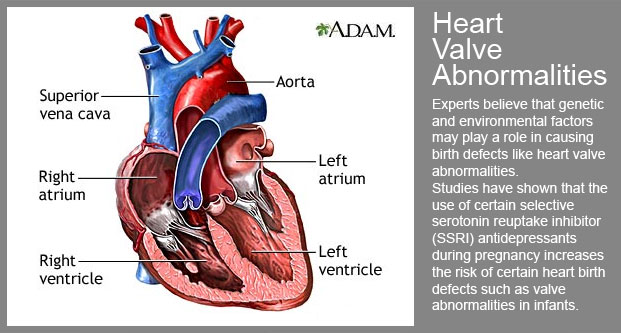 Overview
Congenital heart valve abnormalities, like pulmonary valve stenosis and tricuspid atresia, are birth defects involving one or more of the heart's four valves. The human heart has four valves (tricuspid, pulmonary, mitral and aortic valves) that control the flow of blood through the four heart chambers and the major heart arteries. Congenital heart valve defects occur when an infant is born with heart valves that are either blocked, narrowed or fail to close normally. This causes blood to flow poorly throughout the body.
Signs and Symptoms
A heart valve abnormality may be diagnosed before birth. The most common symptom of a valve defect in a fetus is a heart murmur, which may be detected during prenatal check-ups.
Signs of heart valve abnormalities in infants and small children include:
Labored breathing
Chest pain
Fatigue
Poor feeding
Dizziness or fainting
Cyanosis (blue skin)
Blood pressure abnormalities
Types
When an infant's heart valves fail to develop normally the following can occur:
Valve stenosis is a type of heart valve disease that occurs when there is a narrowing of any of the heart's four valves. Types of valve stenosis include: Pulmonary valve stenosis, mitral stenosis, tricuspid valve stenosis and aortic valve stenosis.

The narrowing, or stenosis, is usually due to thicker or stiffer flaps within the valve that prevent the valve from fully opening. This puts extra strain on the heart, which has to work much harder to pump blood through the abnormal valve.



Atresia of the heart valves prevents blood from normally flowing through the heart chambers. Atresia is the absence of the normal opening in the valve or the absence of the valve all together. Pulmonary atresia and tricuspid atresia are two common types of heart valve atresia.



Regurgitation can occur when a valve fails to close completely, causing blood to leak back through the valve.
These valve defects can lead to a number of heart abnormalities, including Ebstein's anomaly and tetralogy of Fallot.
Treatment
Treatment varies according to severity. Abnormal heart valves may require surgery. Surgeons must either repair the valves or replace them with artificial valves. In some cases, additional surgeries are necessary later in life.
Causes
Experts believe that genetic and environmental factors may play a role in causing birth defects like heart valve abnormalities.
Studies have shown that the use of certain selective serotonin reuptake inhibitor (SSRI) antidepressants during pregnancy increases the risk of certain heart birth defects such as valve abnormalities in infants.
We are investigating the link between antidepressants and the risk of congenital heart defects like heart valve abnormalities.