Tetralogy of Fallot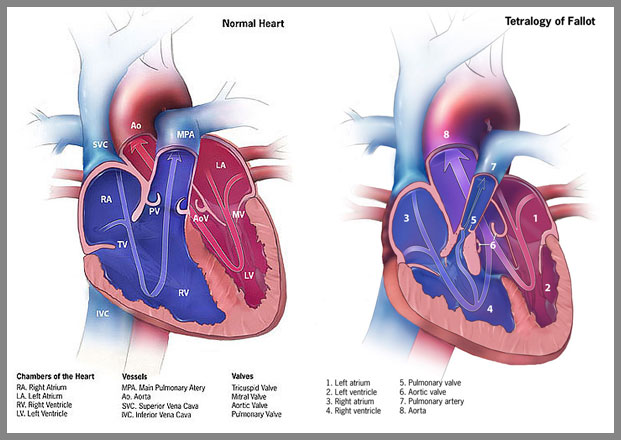 Overview
Tetralogy of Fallot is a congenital (present at birth) heart defect that involves four heart related abnormalities.
Ventricular septal defect (hole between the right and left ventricles of the heart)


Narrowing of the pulmonary outflow tract (tube that connects the heart with the lungs)


An aorta (large artery that carries oxygenated blood to the body) that grows from both ventricles, rather than exclusively from the left ventricle


A thickened muscular wall of the right ventricle (right ventricular hypertrophy)
Together, these defects cause oxygen deficient blood to flow out of the heart and into the rest of the body.
Signs and Symptoms
Tetralogy of Fallot is usually diagnosed during infancy. Infants and small children with tetralogy of Fallot may have the following signs and symptoms:
Bluish skin (cyanosis)
Poor feeding habits
Trouble gaining weight
Heart murmurs
Clubbing of the fingers and toes
Poor development
Sudden loss of consciousness
Treatment
Most babies born with tetralogy of Fallot require surgery immediately after birth or shortly thereafter.
There are two types of surgery that can be performed to treat the multiple defects associated with a tetralogy of Fallot. The first surgery is a shunt operation which may be performed in order to immediately restore blood flow to the lungs. Open-heart surgery may also be performed to completely repair the septal defect and the blocked arteries present in a tetralogy of Fallot. This surgery ensures that oxygen-rich and oxygen-deficient blood flow to the right places.
Patients may require additional surgeries as they grow and in some cases the pulmonary valve may need to be replaced in adulthood. Children who are born with a tetralogy of Fallot will likely need ongoing medical checkups and medical care.
Causes
The exact cause of tetralogy of Fallot is not known, but research has shown a link between the use of certain antidepressants during pregnancy and a higher incidence of certain birth defects, including heart defects like tetralogy of Fallot.