Patent Ductus Arteriosus (PDA)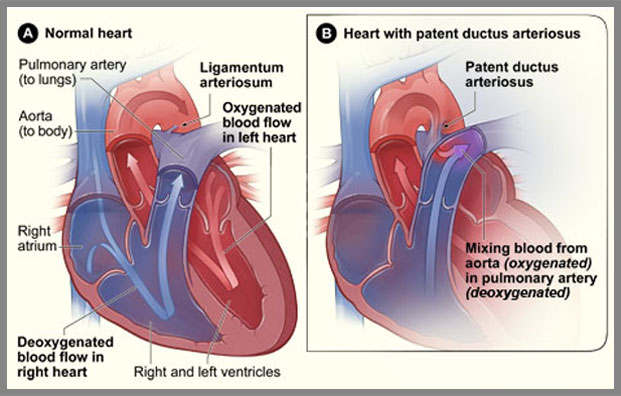 Overview
The ductus arteriosus is a large artery that is present in a fetus but normally closes shortly after birth. The ductus arteriosus allows blood to bypass the lungs before a fetus is born since the fetus gets its oxygen through the placenta.
Patent ductus arteriosus (PDA) occurs when the ductus arteriosus fails to close normally soon after birth. This condition leads to abnormal blood flow through the heart and can lead to very low oxygen levels. PDA is a very serious birth defect that can lead to congenital heart failure.
Signs and Symptoms
If the condition is slight, most signs and symptoms of PDA can go unnoticed. Infants and children with more serious PDA experience the following symptoms:
Fast breathing and pulse
Shortness of breath
Excessive sweating
Fatigue
Difficulties gaining weight
Signs of heart failure
Frequent lung infections
Bluish skin tone
Treatment
Sometimes a mild PDA will close in the weeks after birth and the infant is monitored during this time to make sure the ductus arteriosus is closing properly. Certain medications can also aid in the closing of the PDA. When waiting and medication do not suffice, the main sources of treatment for PDA include catheter-based procedures and open-heart surgery.
Catheter procedures are less invasive than surgery and consist of a thin tube called a catheter that is inserted through a blood vessel. The catheter is then used to close the ductus arteriosus. Serious cases of PDA may require open-heart surgery where stitches or clips are used to close the open duct.
Causes
The birth defect is quite rare in infants born at full term. Genetics and environmental factors are thought to play a role in this congenital heart defect.
Scientific studies have linked the use of certain antidepressants during pregnancy and a higher risk of babies born with congenital heart defects like patent ductus arteriosus. We are investigating the link between SSRI antidepressants and the risk of congenital heart defects like PDA.